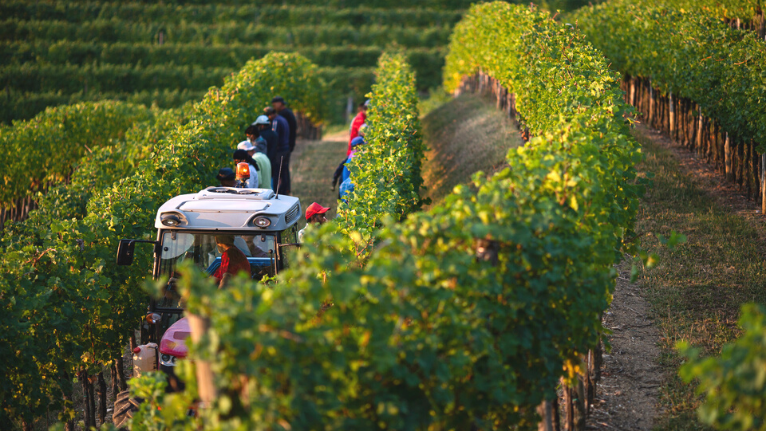 "The 2021 harvest worldwide is decidedly scarce, with a wine production of around 250 million hectoliters".
According to the data collected by OIV (International Organization of Vine and Wine) in 28 countries, representing 85% of world wine production, the harvest campaign was not at all positive. This was just above the values ​​of 2017, one of the worst years, and a few percentage points below that of 2020 (-4%). It was also lower than the average of the last 20 years (-7%).
The causes are mainly to be identified in adverse climatic conditions. Spring frosts, summer drought, hail, heat peaks in September, together with the attacks of vine diseases in some countries, seriously undermined the growth, health and ripening of the grapes. As a result, all of this has therefore led to low yields.
"Significant decline in the Northern hemisphere and in particular in the three major European producers, namely Italy, at 44.5 million hectoliters (-9% on 2020), Spain, at 35 million hectoliters (-14%) and France, at 34,2 million hectoliters (-27%)". In the EU, the total production with this harvest campaign is 145 million hectoliters but shows a general decline of 13%, thanks also to the 8.8 million hl of Germany (+ 4% on 2020), to the 6.5 of Portugal and to 5.3 in Romania (+ 37%). Outside the European Union, the positive data come from the USA, where 24.1 million hectoliters are recorded (+6%), from Russia with 4.5 and from Georgia with 2.2 (+22%).
"The overall decline in the Northern Hemisphere is not offset by the good growth in production in the Southern Hemisphere which marks a production of 59 million hectoliters, up 19%". The main countries that have supported this trend are Australia with 14.2 million hectoliters (+30%), Chile with 13.4 (+30%), Argentina with 12.5 (+16%), South Africa with 10, 6 (+2%) and Brazil with 3.6 million hl (+60%).
Despite these slightly negative data, 2021 was a year of great success for the wine world. Exports in the first half of the year saw growth of 9% in volume and 21% in value, compared to the same period in 2020. We must therefore look to the future of this sector with cautious optimism.
Source: WineNews